Lower risk does not mean not investing in
emerging markets, technology, real estate, foreign exchange, or commodities. It simply means entry at the right price and exiting when the risks become high.

Take a look at the performance of the ZYX Global Multi-Asset -- Lower Risk Model. The model has performed spectacularly since inception in 2007 through bull and bear markets. The model attempts to take 50% of the market risk.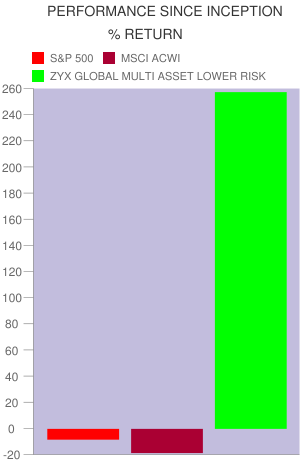 The following asset classes in which the ZYX Global Multi-Asset -- Lower Risk Model has invested in the past illustrate the point:


· Asia Real Estate
· Brazil Equities
· Cash
· China Equities
· Chinese Yuan
· Copper
· Crude Oil
· Emerging Markets Equities
· Euro Dollar
· Europe Export Equities
· India Equities
· Indonesia Equities
· Gold
· Silver
· Spain Equities
· Taiwan Equities
· US 20 Year Bonds
· US Financial Sector Equities
· US High Yield Bonds
· US HMO Equities
· US Mega Cap Equities
· US Regional Bank Equities
· US Retail Equities
· US Senior Bank Loans
· US Small Cap Equities
· US Utilities Equities
How to easily start investing looking forward




How to easily stop investing looking in the rear view mirror


How to easily spot opportunities early


How to easily spot high risk situations




How to easily think in global terms




How to easily pick from stocks, bonds, commodities, foreign exchange, and real estate


How to easily start from a macro perspective


How to easily use the economic indicators that matter and ignore the rest


How to easily use the technical indicators that matter and ignore the rest




How not to be shaken out of good positions


How to easily pick the best ETFs



How to easily perform inter-market analysis and use this analysis to your advantage



How to easily invest so that all your assets do not move together and negate the whole point of diversification



How to use ZYX newsletters to your maximum advantage


How to easily control risks



How to take advantage of volatility



How to put it all together






COACHING SEMINAR
REGISTRATION
SUBSCRIBERS
RECEIVE 70% DISCOUNT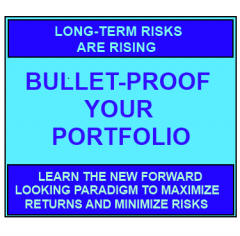 Anyone from novices to sophisticated investors interested in learning principles behind generating wealth. These principles are so powerful that they have come to be affectionately known as Nigam's Laws.



Experienced investors with medium to large portfolios who want to generate higher returns with lower risks in both bull and bear markets.



Financial Advisors who are already successful but desire bigger success.



Money Managers searching for a framework that incorporates what they already practice and adds new concepts that work in prevailing market conditions to enhance risk adjusted returns.





This is an on demand seminar recorded from a live seminar. Once you register, you can watch it anytime at your leisure during a 60 day period.

You can watch it as many times as you like -- there are no limitations.

The seminar duration is 3 hours.


LEARN AT YOUR OWN PACE

LEARN WHEN IT IS CONVENIENT FOR YOU



LEARN WHAT MAKES MONEY